Today, together with over 40 civil society organizations, trade unions, and research centers, we publish a statement on democratic digital infrastructure. In the statement, we are calling on the EU and Member States to support alternatives to commercial digital infrastructures and promote interoperable, transparent digital spaces that respect privacy, democratic governance, and net neutrality. This means co-creating and investing in these infrastructures, for example through setting up a European Public Digital Infrastructure Fund.
The digital transition has resulted in our infrastructures being increasingly privatized which has led to the loss of democratic stewardship.Today, public debate takes place on social media platforms that resemble public spaces, but are in fact private, commercial spaces, with business models built on polarization. At the same time, essential public infrastructures for healthcare, education and other public services are increasingly being taken over by Big Tech.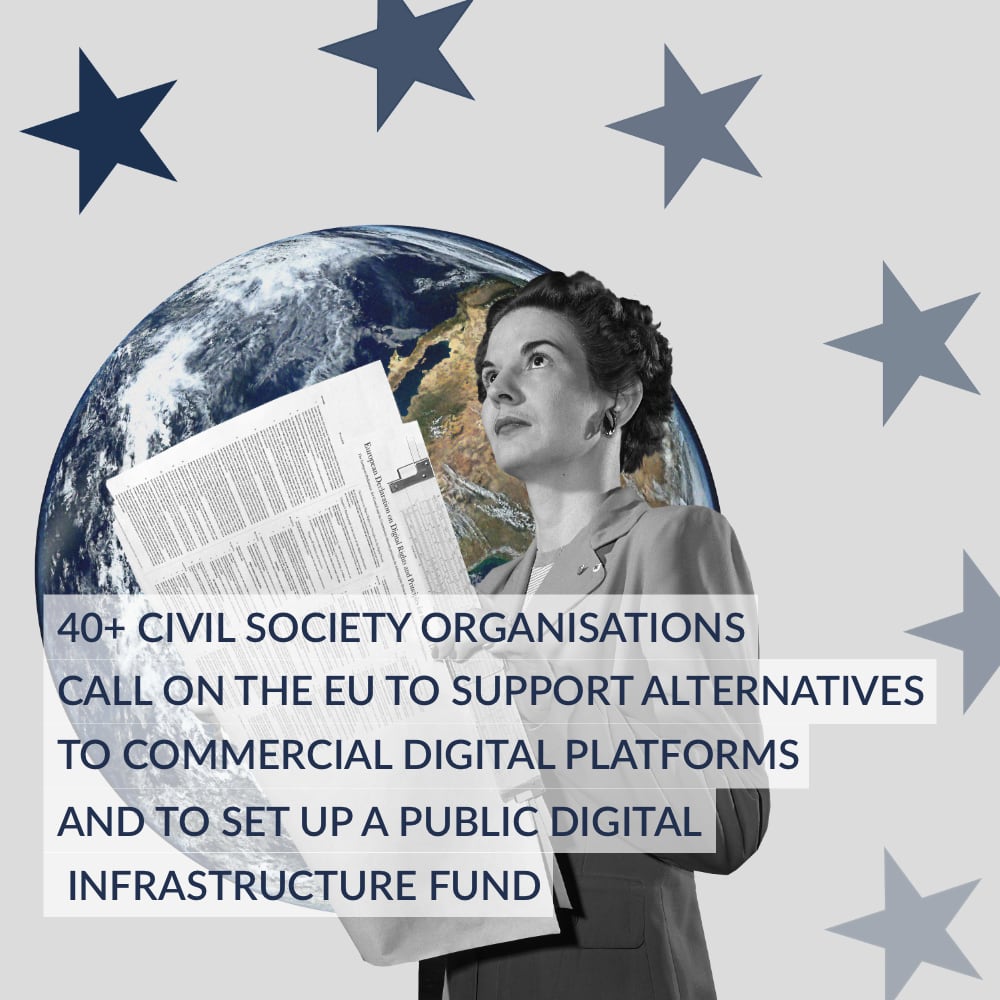 The statement builds on previous work done by many of the signatories, emphasizing the effects of digital transformations on our economy and laying out the possibilities of a Public Digital Infrastructure Fund. It signals strong civil society support for a more ambitious agenda for investment into public digital infrastructures that can serve as alternatives to the centralized commercial platforms and services that dominate the landscape today. It signals that after a period which focused on regulation to minimize the excessive concentration of power in digital economy, it is time to create the conditions for alternatives to emerge.
The statement comes in reaction to the European Declaration on Digital Rights and Principles for the Digital Decade which was adopted by the EU and its Member States at the end of 2022. This declaration recognizes the importance of broad "participation in the digital public space" and calls for "promoting interoperability, transparency, open technologies and standards as a way to further strengthen trust in technology as well as consumers' ability to make autonomous and informed choices".
As Europe gears up towards next year's European Elections, we urge policy makers across the spectrum to include support for democratic digital infrastructure in their election platforms and to give the next European Commission a clear mandate for investing in digital public infrastructure and the digital commons as part of a broader strategy to ensure Europe's digital sovereignty and a just digital transformation.
The statement will be presented by Commons Network and Open Future at the Public Spaces conference in Amsterdam on the 28th of June, where it will be discussed with policy makers from France, Netherlands and Germany.
Signatories:
AI forensics
Allianace for Europe
Center for Internet and Society of CNRS
Centre for Research on Multinational Corporations (SOMO)
Centrum Cyfrowe
Collectif Société des communs
Commons Network
COMMUNIA
Coop des Commun
CoopTech Hub
Corporate Europe Observatory
Creative Commons
Creative Commons Italy
Creative Commons Nederland
Defend Democracy
DisCO.coop
European Big Blue Button Association – eBBBa e.V.
European Digital Rights (EDRi)
European Partnership for Democracy
European Public Service Union (EPSU)
Fair Vote UK
Framasoft
Free Knowledge Advocacy Group EU
Free Software Foundation Europe
NederLandse Unix User Group
Netherlands Institute for Sound and Vision
Open Fisca
Open Future
Open Knowledge Foundation
Open Terms Archive
Platformcoops Germany
Platoniq ​​​​
Polish Economics Network
Public Spaces ​​​
SUPERRR Lab
Verband Freier Rundfunk Österreich
Vereniging Open Nederland
Waag Futurelab
Wikimedia Deutschland
Wikimedia France
Xnet Institute for Democratic Digitisation