Listen to the municipalist skill share podcast
Across Europe, millions of us face skyrocketing rents and closures of vital public spaces. The fightback against developers protecting their profit margins can seem hopeless. Against this backdrop, participants from Rome, Berlin and Marseille's housing movements and Neapolitan commoners joined forces to host an online skillshare session on creative use of law in reclaiming public spaces and re-socialising housing. Legal expert-activists moderated the group discussions and presented about their work.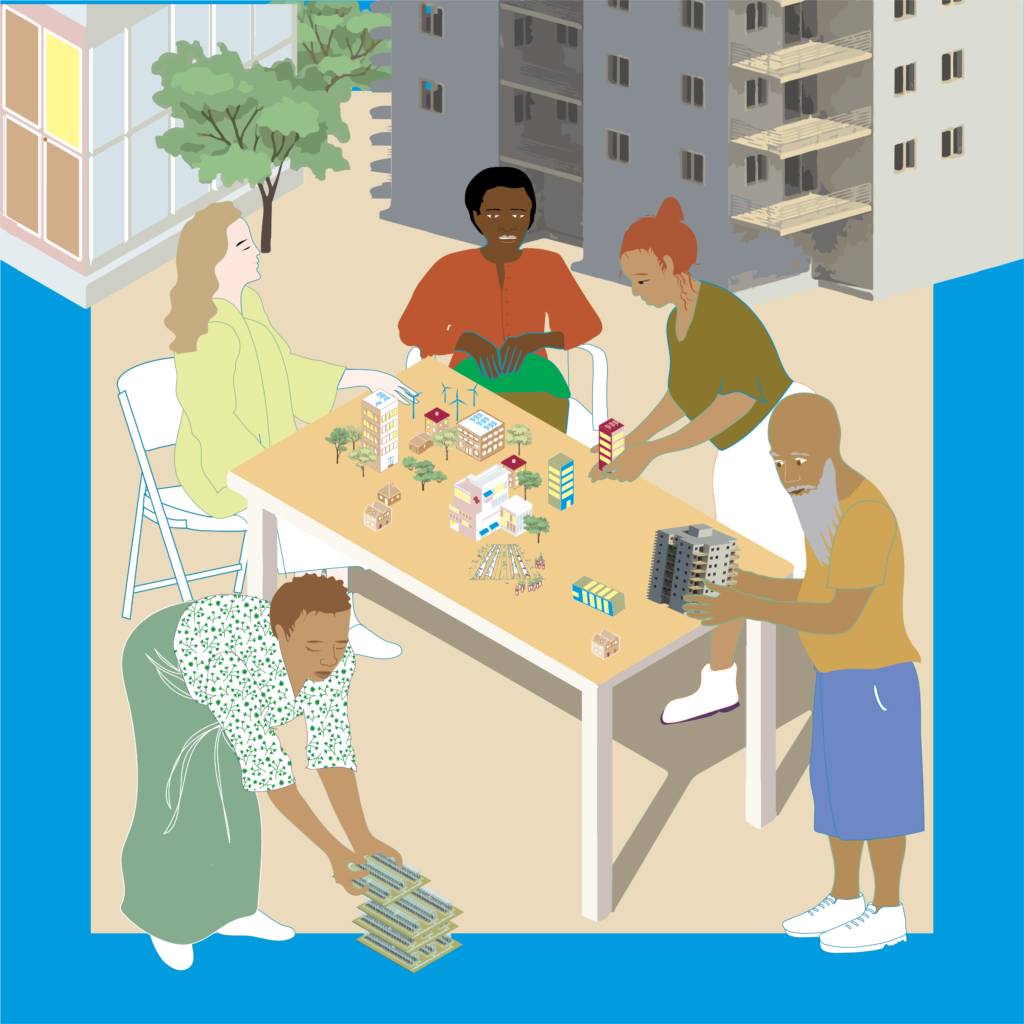 Held on as part of a series of four online skillshares by the European Municipalist Network (EMN), the session explored practices of legal hacking and transformation implemented by activist organisations and professionals from different European countries. It aimed to provide the participants with knowledge and insights about housing and public-private partnerships on public spaces, as well as activism in community assemblies, strategic public works and decisions.
Naples has self-governed urban commons; that is, spaces not governed by the state, nor controlled by private groups. These commons are officially recognised by the city, and managed by a community of city residents through open regular assemblies. This legal tool that enables the urban civic and collective uses is unique in Europe.
The skillshare was run by participants from Splash*, a newly born collective of activist professionals belonging to the community of l'Asilo, coming from the fields of Planning, Law, Philosophy, and Political Science. L'Asilo was the first building in Naples to be recognised under the Urban Commons and Civic Uses law; the city has recognised seven more socially transformative spaces as urban commons.
Naples was also the location of EMN's first in-person meeting of 2022. In Autumn that year, the network met in Berlin to scheme on how to network the municipalist energies; how to inspire each other with pioneering examples; how could we share knowledge across the EMN network. During this convergence, our thoughts returned to the 2021 EMN Summer School, looking to both build on this learning opportunity and also delve into new topics.
Commons Network, who coordinates the peer-to-peer learning space in the EMN, organised a skillshare series in March and April 2023. The other topics covered were: building a democratic local economy; the power of storytelling and political education and centralising care within the feministisation of politics.[Here you can find the other skill shares. Here you can find the other skill shares.
Vive la Commune: municipalities' experiences differ based on political make-up
The project Vive la Commune by Juan Mérida, a post-doc researcher, analyses different experiences of Spanish municipalist communities. It defines the variables of their success and failure in addressing legal arrangements with municipalities. Juan showed us two cases: one failure from Zaragoza and one success from Barcelona.
In Zaragoza, an agreement between municipalist communities and public administration guaranteed the self-management of a public heritage building, originally squatted in 2013. The agreement was signed in 2018 and was expected to last for a decade; however, the community was evicted from the building by the police.
The success comes from Barcelona: Can Batlló; an old factory and industrial space amounting to 13,000 square metres. The neighbourhood and social movements have turned the building into a massive communal space, hosting many social and local economic activities. It is protected by an agreement signed in 2019 between the municipal council and the community, based on Catalan regional law and on a municipal law.
These differences were based on the different political make-up of the councils: left-wing in Barcelona and right-wing in Zaragoza, where a change of government between the agreement and the eviction occurred. Also, Barcelona already had the cultural, political and administrative background that led to the agreement, as well as the regional and municipal legislation; Zaragoza had neither. Therefore, the political ecosystem and cultural heritage both matter.
Action research on political-ecological conflicts in Tuscany
The next speaker was Rita Micarelli from GRASP The Future, Tuscany. The group's work focuses on struggles against public works in Tuscany: the construction of an incinerator, a high-speed railway and, especially, a new airport. GRASP consider activists to be part of action research, since their direct experience of political conflict generates knowledge, enabling communities to develop their activities with awareness of their practices and processes. Local communities have formed committees to share knowledge about the importance of the heritage landscape threatened by the works.
GRASP works with these committees and has proposed a network called Alterpiana for reviving the regional and metropolitan ecosystems, including through a participatory process. They want to be acknowledged as a Common Region with civic use, in line with the legal tool that has secured the status of Naples' urban commons. The governance structure includes an assembly, as well as a collective garden to include non-human beings and ecosystems in the governance relationships of this common.
Housing and public-collective private partnerships on public spaces
The discussions continued in two break-out groups with great speakers to provide further insight into the themes. The two groups focused on: housing and public-collective partnerships on public spaces; and community assemblies, strategic public works and decisions.
The housing and public-private partnerships group heard from Giuseppe Micciarelli, with an introduction to the difficulties in connecting legal systems that differ between cities, regions and countries. This affects the possibilities to construct alliances among similar struggles. However, legal actions need a framework: this means that one cannot win a struggle acting by themselves.
An example of using a law to successfully mobilise people came from Berlin. Aleks Perović from Deutsche Wohnen & Co Enteignen told the story of how housing campaigners, using an article in the German constitution (Article 15), achieved a referendum to expropriate thousands of properties owned by private landlords. They collected the 20,000 signatures required for a referendum, then won the vote by 59% in favour. Yet, the authorities relegated the decision to an expert commission, another stalling tactic. To this day they are still awaiting their decision. "That will be a very important moment", Aleks reflected.
From a legal perspective – the campaign gathered many expert opinions to examine the legal issues – one of the biggest problems was to determine which property needed to be expropriated and which company owned it. Transparency and publicity of data pose huge problems in Berlin, and part of the mobilisation was against the lack of a transparency register. However, institutions favoured privacy over transparency.
The same problem of lack of transparency, this time with the public administration, is what the group Quarticciolo Ribelle (QR) struggles against. Alessia from this collective of social housing residents in the outskirts of Rome told about their struggle to access data on property, even though they work together with the university and Openpolis Foundation. The public housing company that owns the properties has admitted their financial problems, which the QR collective puts down to a transition of ownership from public to private.
Luca Talluri elaborated on Alessia's story, emphasising the virtues of self-management. He gave the example of agricultural collective Mondeggi, where commoning is entangled with social and public housing. Public money has been channelled to a commons, which acknowledges the occupation of this property and that it is run as a commons. Those who enjoy this commons, however, must also accept the presence of the public administration in the assembly.
Community assemblies, strategic public works and decisions
The second break-out group heard from Alima El Bajnouni, a law expert and part of the Association Un Centre Ville Pour Tous ("A City Centre For Everyone"). She explained how in Marseille – the poorest of the big cities in France – a 2015 report identified 40,0000 potentially unfit dwellings. In 2018, two buildings collapsed, with eight deaths and the evacuation of 578 buildings. One of the buildings was owned by Marseille Habitat, the city-owned real estate company.
Following these disasters, a coalition was built to advocate for residents' role in public housing policy. They also demanded that the rights of those displaced by building collapses be guaranteed: they drafted a Rehousing Charter, stating the rights as well as social, legal and administrative support for evacuated persons. After the metropolitan administration refused to sign the first version, a second one was negotiated – this time with a key legal achievement: the recognition of bona fide occupants, that is all residents whether they have a tenancy agreement or not. They could have proof of residence at the address of the evacuated property, bank statements proving payment of rent or even testimonies from neighbours.
This legal achievement was taken even further after the 2020 municipal election which was won by the former opposition supported by citizen collectives and angry residents. A "College of City Users" (CoMU – Comité de Maîtrise d'Usage) was formalised to include the voices of those who live in the city, because they know it best and are best placed to define policies. However, the challenge remains for the CoMU to go beyond consultation and integrate resident voices in the urban planning code. This relates to questions about going beyond traditional approaches to participation, which GRASP's action research offers tools towards.
Key takeaways from hacking the law
The law is often considered a technocratic and exclusive field that activists struggle to influence and use. However, it is increasingly essential for municipalist actors to navigate and "hack" this field in order to give more stability to the political achievements of the municipalist movement. Skillsharing is a vital tool to democratise power and build alliances between different forms of activist, professional and academic knowledge. In this session, participants coming from different political and legal backgrounds learnt how their struggles have many commonalities. The conversation will surely continue.
Want to know more about the skill shares? check out the municipalist skill share podcast series