What's happening in the European Municipalist Network (EMN), of which Commons Network is a coordinating partner? In a series of blogs, our colleague Bea keeps you up to date.
During the past weeks, I interviewed three different people that are part of municipalist initiatives in Europe. The upcoming blogs will be about them. First, I interviewed Malin Widehammar from Democratic Transition/The Hub in Bergsjön, Sweden.
Bea: Can you tell me about how you got involved in Democratic Transition, and how your organisation has evolved over time?
Malin: For me it all started from the question of how we can change society and where do we go from there. I studied political science, and while living in London in 2005 I got interested in municipalist ideas, working with a group called 'Social Ecology London'. Skip forward to 2007, I moved back to Sweden and joined 'Democratic Alternative', which was a big and very active EU-backed nordic organisation established in 2001 with a newspaper, different groups, and mostly young people. The organisation eventually split into a Norwegian and a Swedish part, although they are still in collaboration. The Swedish part became 'Democratic Transition'.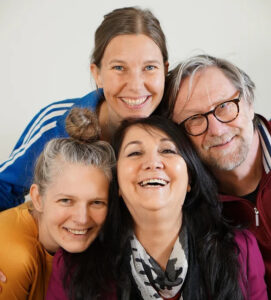 In 2014, when we got to know the municipalist movement in Spain, Democratic Transition decided to organise a conference in Sweden called 'Democracy and Movement'. We invited municipalist actors from Spain to bring awareness about municipalism to Sweden, where it was not known even in leftist environments. The conference inspired many people, so it became the first one of a series of conferences aimed at lifting up the municipalist movement in Sweden by inviting important municipalist actors from other places, a bit like the EMN is doing now. The goal was to create a stronger municipalist network within Sweden, and to get more connected to the broader municipalist movement across Europe. This process also led to the creation of a publishing house when the book 'Fearless Cities' came out to translate the book into Swedish.
Since Corona happened in 2020, fewer people are active in the organisation, so we are currently trying to get more people to join and to refocus the activity of those who are still part. Due to the right-wing progress witnessed in the last Swedish elections, we want to take the next 4 years until the next election to focus and strategize about what can be done, and what would make the most impact before the elections to combat right-wing politics and advance democratic left-wing alternatives.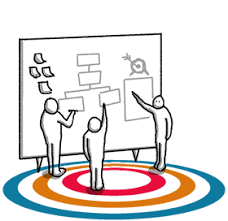 Bea: And can you tell us about 'The Hub'?
Maling: On the other hand there is 'The Hub', a community centre in a suburb of 18000 inhabitants in Bergsjön, most of them of immigrant background, where the average income and education is much lower than the rest of Sweden, a problem also present in other segregated cities. The centre was built to work on making things better in the local neighbourhood through organising activities aimed at local political change from the bottom-up, boosting community life and creating room for caring spaces within the realm of the local economy.
To strengthen these local economies, we aim to inspire and support people to start cooperatives and initiatives. We are also promoting Community Wealth Building by encouraging hiring locally, analysing the economy and demographics of the neighbourhood, and making connections between key actors and official institutions to cooperate at the local level.
Bea: How is your work connected to the EMN? What value do you see in having a network of municipalist actors in Europe?
Malin: The connection stems from working on the same municipalist issues and ideas, and because of actively being in contact. I think the EMN is important because it enables us to share experiences and learn from each other, our strategies but also our difficulties, obstacles and ways to overcome them, and to celebrate collective successes. It allows us to share questions and lessons, to get inspired, get together, and to become stronger from working with people that are doing similar things in different contexts, politically, socio-economically, and culturally.
Corona made it very clear that being unable to meet in person and get inspired had a big impact on our work and the movement in general. Because the ideas we defend are against the status quo, it is easy to feel like the weird one out. This is especially the case in Sweden because it is not a big movement, not even with its tradition of Left politics and its welfare state tradition; this is now being dismantled.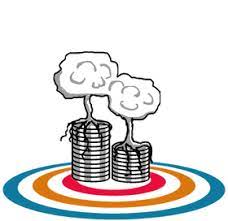 Bea: Do you think municipalist ideas, policies, movements, etc. develop/look differently across Europe?
Malin: I know the most about Sweden and the Nordic countries, but I think yes. For example, in Spain and France it was crises that made people organise, which led to waves of municipalism. In Scandinavia this was not really the case. In Sweden there are only two small parties that are close to municipalism.
On the one hand, in the elections of 2018 there was a rise of a feminist party which got seats in municipalities but not at the national level, because people were unhappy that there was not enough feminist politics. The party was formed mostly by activists that were in politics for the first time. Although feminist issues are important, their political program was missing other important aspects, like concrete economic proposals. They wanted to have more participatory democracy in their program and be close to their organisation. Unfortunately, in the last elections they lost many votes and seats.
On the other hand, there is a party that was formed by people from the green party that were unhappy with the lack of radical views on economics and sustainability, and with the focus on cities, wanting to work more with rural areas, where people feel like the establishment doesn't care about them. These parties are close to municipalism, but their formation is different to how things have developed in other places. Also, in Sweden there are seven parties in government and the green and leftist parties are big, but there is very heavy party politics, so it is difficult to make them collaborate and make space for municipalist platforms.
Still, we are currently investigating whether to build a democratic municipalist platform, who wants to participate, etc. Coming back to the previous question, these are all things that we could learn from the experiences of other movements through the EMN so we are happy to be part of it!
Next week, we'll hear from a municipalist movement in France, so stay tuned!