As part of our work on transforming the digital infrastructure, we are writing an article series of Pan-European case studies about sovereign media distribution, away from big tech, together with PublicSpaces. PublicSpaces is a coalition committed to providing an alternative software ecosystem that serves the common interest and does not seek profit, in other words to an internet as a public space. In the upcoming weeks, we will share the article series with stories about these intriguing initiatives here as well. Last week was about Les Petites Singularités. This week: Beyond the Now.
Beyond the Now is a syndicated social practice platform. It aims to establish new learning practices across disciplines and gives journalists, artists & activists the tools to reclaim sovereignty in digital spaces. Beyond the Now was founded during the covid pandemic by seven organizations that represent different societal sectors and perspectives: most notably the arts, education and activism. All of them felt a growing urge for a digital community as well as a desire for a vision that would go beyond responding to the "now" of the pandemic. Collectively, through written reflections and artwork, they set out to critically examine the use of digital space in their work. We spoke with Áine Obrien, co-founder of Counterpoints Arts and involved with Beyond the Now since the start.
"Beyond the Now is a collaborative platform, it is a collective of both individuals and organizations. It has provided a space for us to show solidarity throughout the pandemic and to truly honor the idea that together we can achieve more than alone", Áine explains.
Using the digital realm as a space for bringing people together is at the heart of Beyond the Now's work. Beyond the Now aims to provide an opportunity for all organizations to pool resources, their networks, different disciplines and skills, and to create partnership projects. It aims to provide a space for collaboration, imagination, and curating with others, where a mix of creative and critical voices from communities across the globe sit side-by-side on an open platform. Creating such a digital space cannot be done through the tools provided by Big Tech. Instead, using alternative software tools that center sovereignty, openness and transparency, amongst others, form a better fitting.
"We believe the same values that apply during physical gatherings should also apply during online gatherings, wherever possible. Through our collaboration with MozFest, we as Beyond the Now are quite active on digital activism and employ practices such as open source", Áine points out.
Curious about the entire article? Read the full piece here. The article has been authored with funding from the European Cultural Foundation, licensed under the CC BY 4.0 licence.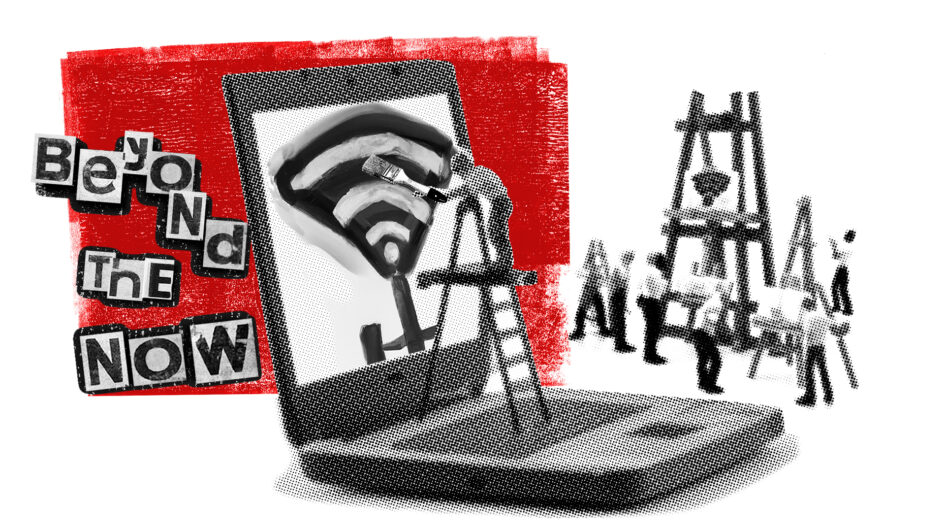 Illustration by Julia Veldman C.
Our work on transforming the digital infrastructure is rooted in our belief for a radical different approach to technology, one where communities are empowered to use alternatives when they need them, and to reject new technologies if they don't. Our vision is to build an alternative economy through public-civic digital ecosystems, where citizen cooperatives collaborate closely with strong public institutions, and where communities become literate to technology and independent from it at the same time.
Find out more about this work here, or read or latest publication on the topic "Generative Interoperability: Building Online Public and Civic Spaces"