Last year, Commons Network became a coordinating partner of the European Municipalist Network (EMN). In a series of blogs, our new colleague Bea tells you all about the network, how we got involved and what we will be doing.
Last week, we traveled to Berlin for a meeting with the European Municipalist Network (EMN). Around 20 people from across Europe came together to share skills, talk about strategy, and collaborate. EMN co-hosted the meeting with the Berlin municipalist group.
This second blog of the series on the EMN focuses on this meeting, delving into the three main objectives of the meeting, the program, and the participants, and on the peer-to-peer skill sharing that took place.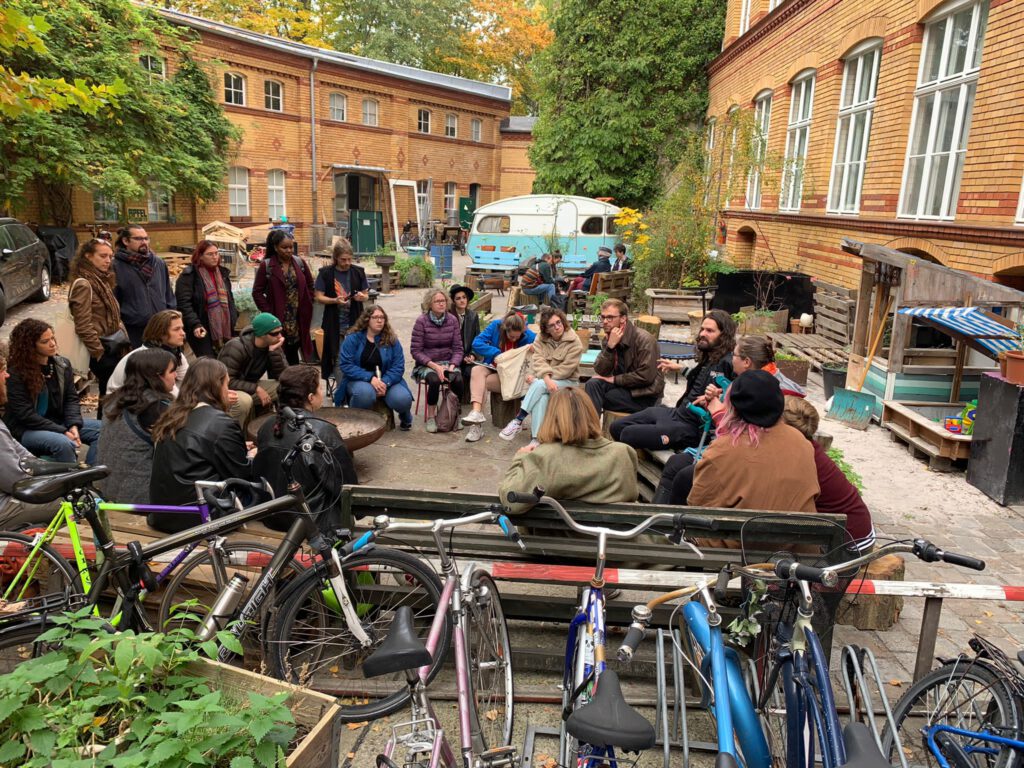 The meeting took place on the 13th and 14th of October in Berlin and had three main objectives:
Reinforcing local movements in Northern Europe interested in the municipalist approach because of the need for more alignment and development of the local city movements and the municipalist movement in the north. The Berlin meeting had a big focus on outreach and making new connections.
Launching a skill-sharing process to reinforce peer-to-peer learning among municipalist actors in the form of online sessions facilitating peer-to-peer exchange and producing outputs to share skills, methodologies, imaginaries, tools, opportunities, challenges, experiences, etc. with one another and with a wider community. The kickoff meeting in Berlin served to define issues and topics as well as to plan the sharing sessions to function in a peer-to-peer approach.
Creating an EMN learning and storytelling space, where EMN participants engaged in defining its communication strategy and pedagogical approaches can continue the exchange, and everyone can learn more about EMN, its activities, and alternatives to participating.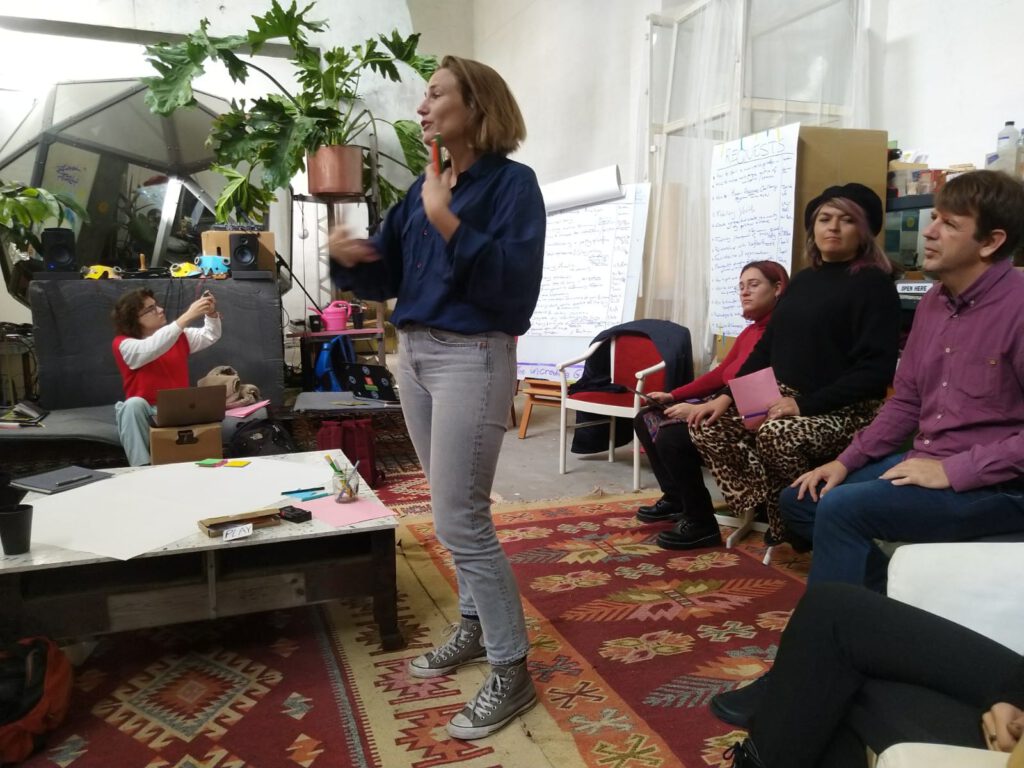 The participants of the meeting consisted of EMN members from across Europe, the Berlin Municipalist group, and other people from Berlin interested in municipalism. They comprised people from many different regions and institutional origins (activists, researchers, local authorities).
It was an opportunity to share experiences, learn about developments in Berlin, and co-develop the themes and messaging to rally around. The program included strategy meetups, skill-sharing presentations and workshops, a public panel + discussion on municipalism, and communal dinners.
Take Back the City! Perspectives on City Activism & Politics from across Europe
The titel of the public panel and discussion was "Take Back the City! Perspectives on City Activism & Politics from across Europe". Sharing different experiences, opportunities, and challenges of local movements and groups across Europe, the event aims to popularise understanding of municipalism. We wanted to create a sense of unity between actors working at the local level, to explore ways in which the EMN can support municipalism in Berlin and northern Europe. Speakers were:
Commons places in Berlin: collectivism and locality
The meeting took place in two locations part of Berlin's commons landscape: Moos and Ada Bar.
Moos is a network and collective space rooted locally and connected globally. It is aimed at bringing together thinkers and doers in DAOs, ReFi, DeSci, Platform Coops, Purpose Orgs, Climate Activism, and Art, to co-create and share projects, knowledge, food, kindness, and hope.
Ada Bar is a bar run by a collective of 10 people wishing to create a space for cultural, artistic, political, and social events in the heart of Neukölln, Berlin.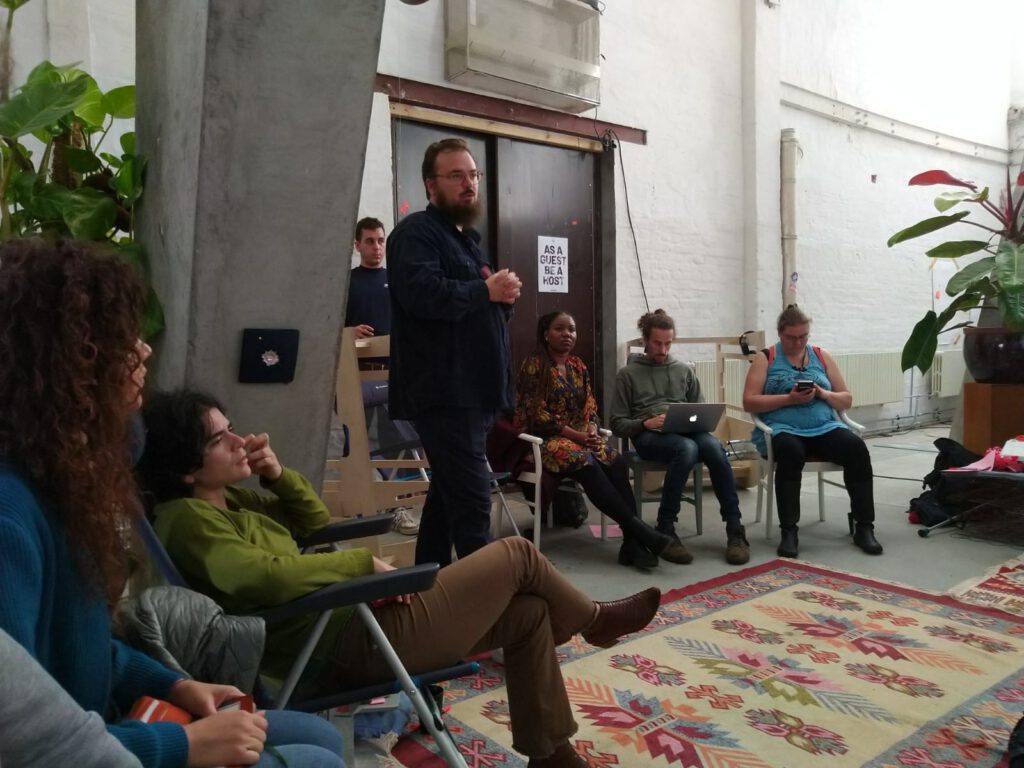 In the upcoming moths, as a coordinating partner of EMN alongside Commonspolis, Transnational Institute and Research for Action. Commons Network will continue to focus on facilitating "peer-to-peer" exchange amongst the members of EMN. The aim is to foster the sharing of skills and experiences, develop joint imaginaries and narratives, and strengthen collaboration within the trans-local movement. Commons Network's facilitating role of peer-to-peer exchange within EMN also includes identifying key actors related to municipalism in a specific territory and producing outputs such as how-to guides, toolboxes, articles, podcasts, short videos, etc. on the basis of skill-sharing workshops. These actions underline the powerful impact of the peer-to-peer approach, its role in reinforcing networks, developing solidarity learning schemes, and forming a collective discourse.
Our team felt very inspired by the meeting in Berlin to see all the work done by social movements across Europe in the spirit of municipalism.
In the following blog, I will share parts of the interviews conducted with different EMN members about their work, connection to EMN, and perspectives on municipalism.
Stay tuned!