Last year, Commons Network became a coordinating partner of the European Municipalist Network (EMN). In a series of blogs, our new colleague Bea will tell you all about the network, how we got involved and what we will be doing. 
Earlier this month, we were in Berlin for a 3-day gathering with municipalist actors from all across Europe. Among skill- en knowledge sharing workshops, strategy meetings, and social gatherings, one highlight of the meeting was a public panel at the collectively owned and run Ada Bar. 
Under the title "Take Back the City! Perspectives on City Activism & Politics from across Europe", five women from different municipalist organizations in Europe talked about their work, sharing their diverse experiences, successes, and challenges in bringing about political change at the local level.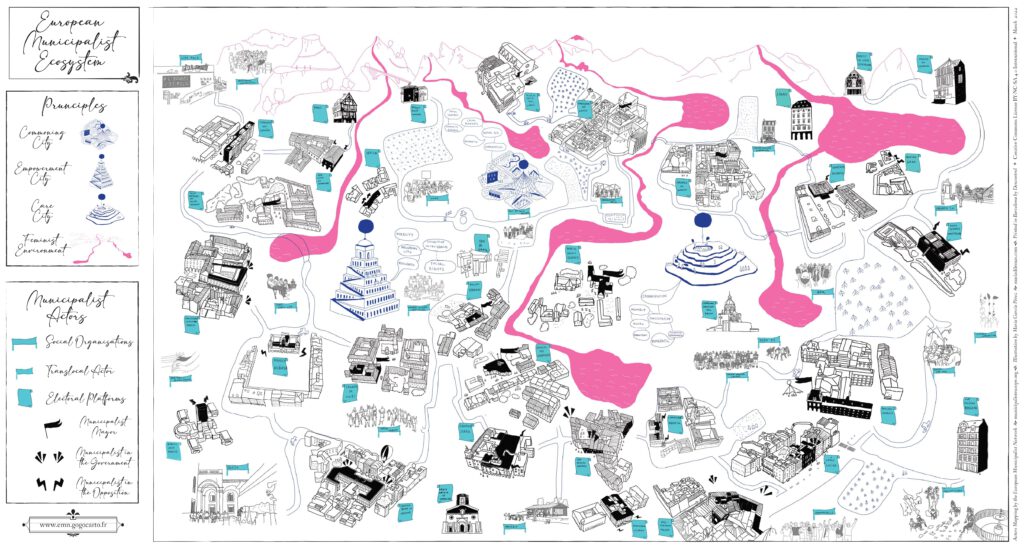 First on the microphone was Margot Medkour from Nantes en Commun (Nantes in Common), a joint local political movement founded in 2018. She spoke about building non-profit organizations and commons but especially about the experience of running for local elections, sharing her thoughts on taking time and being ready. 
Key Insight: The right moment to start a municipalist platform and participate in elections is…. when you are ready!
She continued speaking about the process of developing political campaigns like the one they have just launched under the name 'Time of choice', and explained the fundamental role that developing city investigation methodology and carrying out those investigations as a collective inquiry process has, to better understand the issues of their city and develop concrete proposals.
Then was the time for Maria Francesca De Tullio from L'Asilo (The Asylum) Napels, former headquarter of the Forum of Cultures. Since 2012 it is an open and diverse space practicing shared and participatory management of a public space dedicated to culture.
Key Insight: We can use law in creative ways to support the commons and the public interest
She talked about how one of their main endeavors is the creative use of law, sharing the story of how they found a loophole in a middle-aged law and then used that to lobby for the creation of a commons in Naples.
Next spoke Terra Dakota Stein from Verdedig Noord (Defend the North), a resident organization from Amsterdam-Noord founded in 2019 that fights for a city of solidarity and against gentrification through art and activism.
She talked about the power of multimedia and storytelling, and about the importance of emphasizing accessibility and intersectionality. She shared how they have been able to, among other things, reach government officials and present their crowdsourced policy plan for their district, working to facilitate the government in implementing their ideas.
Key Insight: Include people in the community and reach out to them in their own language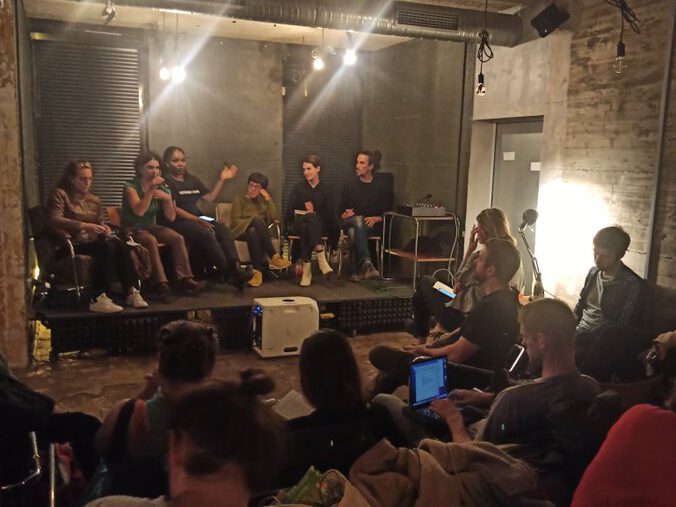 Then Ana Mendez de Andes from Commonspolis had the stage. She talked about her experience as part of the citizen platform Ahora Madrid, running and winning the local elections of Madrid in 2015, and the impact that the 15M movement had in this victory. The 15M was a social event comprising a series of demonstrations throughout the Spanish territory with which citizens showed their discontent regarding the economic crisis of 2008 and the cuts in social and public aid.
Key Insight: being in power is not easy for democratic movements as the exchange for information totally changes
Ana highlighted that although their success was connected to this unprecedented historical moment, other municipalist movements should not be discouraged since everything is deeply dependent on place and context.
Last but not least spoke Rabea Berfelde from Deutsche Wohnen & Co Enteignen Berlin, a grassroots democratic initiative composed of people from tenant initiatives and urban political groups and parties committed to a livable and affordable city for everyone.
Key Insight: re-socialising housing is a concrete political possibility
She discussed the experience and process of being part of the Berlin Voting Act referendum and how currently, their focus is on preparing for the repetition of the referendum and on their goal of socializing over 240,000 apartments in Berlin and transferring them to common ownership.
The panel was presented and mediated by Xavi Ferrer, one of the initiators of Barcelona en Comú and currently part of Munizipalismus Berlin, an ongoing coalition of individuals and groups that stand for the socio-ecological transformation of Berlin, focusing mainly on maintaining and creating affordable housing, enabling climate-friendly mobility, and further developing social infrastructure.
Hearing these women sharing experiences, challenges, and successes of their particular municipalist realities was very interesting and useful. We got back on the train to Amsterdam with a lot of new insights!
Of course, not all of our colleagues and friends of EMN could join us in Berlin. To still learn from their local experiences and knowledge, we held a few online interviews with some of them. We'd love to share these stories with you as well – which is exactly what I'll be doing in the next blog!